MIND SOUND MIXER
This free software mixes multiple background sounds, such as white noise and soft rain, with a relaxing metronome beat. Whether you're meditating, studying in a cafe, or taking a nap, this is a great tool for masking distracting noises. An optional timer can automatically shutdown your computer when used for falling asleep.
Uses:
Create a peaceful/relaxing mental environment for meditation, study, or sleep.
Drown out background noises such as neighbors or street noise.
Use with headphones at the office/cafe for better concentration.
Important: This software is for personal use only, as the audio clips it contains are only licensed for personal use (not for redistribution, use in videos, etc). If you're looking to create audio mixes for Youtube videos, we suggest Audacity (free).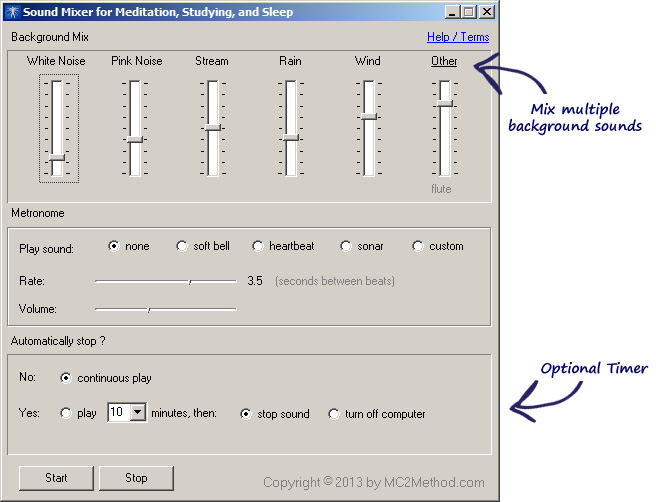 Watch a YouTube demonstration.
Other features:
Timer can automically shutdown your computer after you fall asleep.
You can record your mixes to cd if your prefer to listen to a cd.
Works with Windows 95, 98, 2K, ME, XP, Vista, 7, 8 and 10.
Mac users can still play our meditation music in iTunes.
Very easy to use
100% free
DOWNLOAD INSTRUCTIONS:
Create an empty folder on your Desktop (or anywhere on your computer)
Save this zip file to your computer: MindSoundsMixer.zip
Extract the zip file into the empty folder that you created in Step 1.
Doubleclick the file "Mind-Sound-Mixer.exe" to run the program... It's that easy!

To uninstall anytime, simply delete the files, or the entire folder.
If you have questions or need assistance, please contact us.